You may be asking yourself why river cruising has become so popular. If you've never been on one before, the appeal may not be immediately evident. But there are plenty of benefits to choosing a river cruise, such as ship size, destinations, inclusions, theming, and so much more.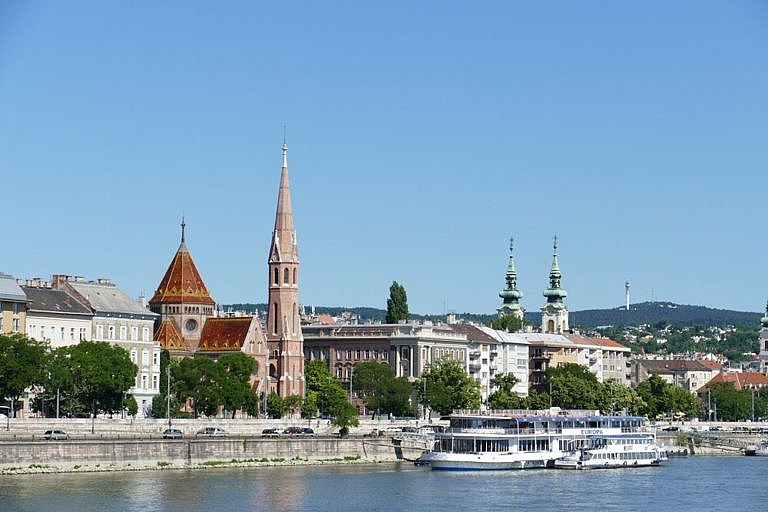 So what's got people all hyped up over river cruising?
For one thing, ship size! Small ships are far more intimate, so you get to know the passengers and crew a lot better. And river boats and barges can access so many ports that larger ships can't, so river cruising opens up a world of new destinations.
But wait! That's actually three reasons in one, so let's break it down a little bit more.
With smaller ships, you're sure to get more attention from the crew, since there are fewer passengers to place demands on their time. This translates to more personal experiences, and ultimately, better service.
Similarly, on a small ship, you will quickly recognize all the familiar faces of the other passengers, so it's easier to strike up conversations. All those people are local to somewhere, so you get to meet a variety of interesting people. In the long run, you're more likely to meet like-minded travellers and form more meaningful relationships.
And, smaller ships can travel inland to ports of call impossible to reach by ocean cruise ships. When you're river cruising, you can still end up in some pretty far-off regions! There are many places where you can go on a river cruise. Some of the most common rivers to cruise on are:
In Europe: Danube, Rhine, Seine, Moselle, Rhône, Douro, Saône, Elbe, Oder, Volga, Dnieper
In Asia: Mekong, Yangtze, Irawaddy
North America: St. Lawrence Seaway, Mississippi, Columbia, Snake, Hudson
South America: Amazon
Africa: Nile, Chobe
Given the physical nature of rivers, small ship size is a must. But that's not all! It also means that when you are on the move, you're not just cruising on the endless ocean. You're cruising through the countryside or surrounding towns of the destination you're visiting. So, you end up seeing much more than on an ocean cruise.
In addition, since ports are closer to each other, there are rarely any "At Sea" days. Now, there are certainly benefits to At Sea days, but for active people or for those who like stay busy, it can be a blessing not having to deal with them!
With the additional port days, some may be concerned about the added costs for shore excursions. However, river cruises tend to include most shore excursions (with more options for an extra fee). While it may initially seem like they're more expensive than ocean cruises, that actually depends on how many shore excursions you would be paying for on the ocean cruise, versus how many supplementary excursions you would choose to add to the river cruise for an extra fee.
But you really don't have to spend any extra money if you don't want to! A few river cruise lines offer complimentary bicycle rentals for you to enjoy as you please in port, making it easy to explore on your own at a lower cost.
In fact, most river cruise lines specialize in something, making it important for travellers to choose wisely. Families wanting a more kid-friendly atmosphere would love Adventures by Disney river cruises with AmaWaterways. Young adults might prefer Uniworld, which is geared to millennials. Single travellers will want to keep an eye out for waived single supplement promotions. Riviera River Cruises even has a permanent single traveller program.
Likewise, with river cruises, theming is so easy! Themed travel is becoming more and more popular as people become more experienced travellers. Let's say you've been to Vienna once before and have already seen all the main sights. You might feel that a cruise that begins or ends in Vienna might not be for you since you've been there already. But what if you wanted to take a river cruise to see the holiday Christmas markets of Old World Europe? Then a river cruise that includes Vienna's Christmas markets would be fine, since you wouldn't have seen Vienna from that themed perspective on your first trip.
Apart from Christmas markets, the theme of food and wine is quite popular on river cruises, because it's so easy to focus on regional specialties. Health and wellness travellers also frequently choose river cruises, as do active travellers who enjoy cycling, hiking, and golf.
As with all cruises, it's great to be able to tour around from place to place without having to constantly repack your suitcase and lug around your baggage. But choosing a river cruise does have a distinct advantage: there is usually better WiFi throughout the duration of the cruise, without having to splurge on an expensive cruise line package.
So with all these benefits, why not give a river cruise a try next time you travel?