Have you ever thought that hiking throughout Spain would be a great way to see this beautiful country? If so, then take a look at this sample itinerary for an unforgettable themed experience. See the best sights in Spain — on foot! Geared to avid hikers of any skill level, this sample itinerary combines day hiking tours with guided city walks.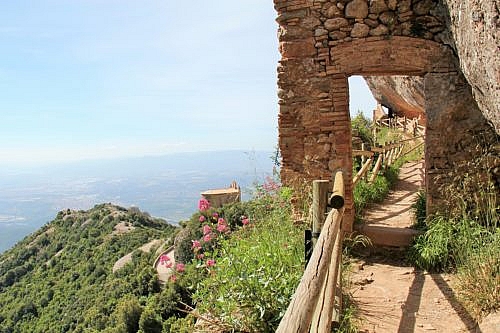 For those who would like to spend even more time hiking throughout Spain's backcountry, multi-day overnight excursions can be arranged, so make sure to get in touch for more information!
And remember, since this is just a sample itinerary, it can be completely customized to suit your individual tastes and preferences. Get in touch to start planning your perfect trip!
Day 1:
Fly to Barcelona
Leave from the closest airport in the early morning, and arrive in the wee hours in time to check-in at the hotel and get a decent night's sleep before beginning your explorations.
Day 2:
Sagrada Familia Walking Tour
Sleep in this morning to help recover from jet lag, then enjoy a nice, slow brunch before setting off to discover Barcelona. Get started with a private walking tour featuring the city's stunning architecture, including masterpieces by renowned modernist Antoni Gaudi. Finish with skip-the-line access to the awe-inspiring Sagrada Familia Cathedral.
Ghost Walk
After dinner, visit some of the city's most haunted locations on a guided walking tour while listening to horror stories from the Middle Ages and Spanish Inquisition.
Day 3:
Pyrenees Day Hike in the Nuria Valley
This day trip will give you the opportunity to escape the city and breathe in some fresh mountain air. Ride a funicular to get to the trail head, then at the end of the hike, stop to visit a remote medieval Benedictine monastery.
Day 4:
Mount Tibidabo Day Hike
Hike up to an elevation of 512 metres for fantastic views of Barcelona and its surroundings.
Sunset Cruise
Wind down after your hike by sipping on a cocktail while enjoying the beautiful Barcelona skyline and coast from a wooden sailboat.
Day 5:
Costa Brava Day Hike
On this coastal hike, marvel at the magnificent Mediterranean scenery as you amble over seaside cliffs and across sandy beaches.
Day 6:
Picasso Walking Tour & Museum
Begin the day with a tour of Barcelona to see the famous artist's favourite hangouts, which ends with skip-the-line access to the Picasso Museum.
Basilica del Pi
Next, explore a 14th-century Gothic cathedral, complete with a treasury, crypt, and garden. You can even climb the bell tower to get panoramic views, and excellent photos, of the city.
Park Guell
After a quick bite to eat, stroll through this park to discover its paths, gardens, bridges, and viaducts. A professional photographer will accompany you to capture the wonder of each moment.
Day 7:
Montserrat Hiking Tour
Options abound for visiting this popular monastery. Those who are more interested in sightseeing can ride the glass-bottomed funicular to the mountaintop, while enthusiastic hikers can climb to the peak. Various routes are available for all skill levels.
Day 8:
Pyrenees Foothills Day Hike
Return to this mountain range to discover even more of Spain's beautiful countryside. Visit a medieval village at the start of the trip, spend a few hours hiking, then end the tour with a delicious three-course meal.
Day 9:
Gothic Quarter Walking Tour
On your last morning in Barcelona, you have the opportunity to learn about the city's Gothic past. After touring the Gothic Quarter, a visit to the History Museum will help fill in any remaining gaps.
Travel to Seville
In the afternoon, take the train to your next destination. After checking in to your hotel, spend the evening at your leisure.
Day 10:
Caminito del Rey Day Hike
Hike on what was formerly known as the most dangerous trail in the world! Now restored and perfectly safe, it remains spectacular to behold, with vertical walls of up to 300 metres on one side of the path, and dizzying drops on the other.
Day 11:
Jewish Quarter & Alcazar Walking Tour
Stroll around the Jewish Quarter and visit its highlights on this late-morning walking tour. End with skip-the-line access to the oldest active royal palace in Europe. Enjoy free time for the remainder of the day.
Day 12:
Guided Day Hike
Discover more of Spain's natural beauty in the mountains surrounding Seville. Choose from multiple regions, including Sierra de las Nieves, Aracena, Doñana, and Grazalema.
Day 13:
Colonial America Walking Tour
History buffs will be pleased to find out why Seville was known as the "Gateway to America" on this walking tour.
Travel to Granada
Take the train to your next destination, and check-in to your new hotel.
Albaicin & Sacromonte Walking Tour
Explore Granada's Moorish and Gypsy heritage on this guided city walk.
Day 14:
Sierra Nevada Day Hike
The incredible views from the mountain summit will be well worth all the hard work on this day hike. You will climb to an elevation of 3,398 metres, where it's possible to see the Mediterranean Sea, and even Africa.
Day 15:
Alhambra Palace & El Generalife Gardens
On this morning excursion, gain skip-the-line access to Alhambra Palace with a professional guide, then explore the fortress grounds and ornamental gardens.
Granada Cathedral & Royal Chapel Walking Tour
Later in the afternoon, visit a once-prosperous silk market before making your way to Granada Cathedral for a guided tour. Finish the tour inside the Royal Chapel.
Dinner & Flamenco Show
Here's your chance to partake in a sumptuous meal at an authentic venue. Soak up the atmosphere in a century-old cave-restaurant while watching a traditional flamenco performance.
Day 16:
Travel to Malaga
Take a short train ride to your next destination.
Alcazaba de Malaga & Teatro Romano Walking Tour
Learn about Malaga's Muslim and Roman past on this guided excursion. You will also see one of the most spectacular views of the city.
Day 17:
Sierra de Tejeda Day Hike
Explore this mountain range with a professional guide. You'll climb up to an elevation of 2,000 metres and observe excellent views of the Mediterranean.
Day 18:
El Torcal Half-Day Hike
Visit a UNESCO Natural Monument at the El Torcal Nature Reserve, where you'll hike among dramatic limestone formations.
Malaga Evening Walking Tour
Next, spend a few hours getting to know Malaga. End the tour on a terrace with breathtaking views of the city, a drink in hand.
Day 19:
Marbella Hiking Tour
Learn about the history of the region on this guided hike as you wander through valleys, hills, and forests. You'll see some amazing coastal scenery, Roman ruins, Moorish castles, prehistoric caves, and more.
Travel to Madrid
Take the train to your next destination. Check in to your new hotel and get a good night's sleep in preparation for the morrow's busy day.
Day 20:
Royal Palace
Benefit from early access to this must-see sight to beat the crowds! Your guide will show you all the highlights, in addition to some sections of the palace that most visitors don't see.
History & Legends Walking Tour
Next, take a private tour for the best chance to see the most of Madrid's best sights.
Retiro Park Walking Tour
Afterwards, take a relaxing stroll in Madrid's equivalent to Central Park.
Local Hosted Dinner
To end the day, join your chef in their own home for an amazing meal featuring regional recipes and fine wine.
Day 21:
Travel to San Sebastian
A good portion of this day will be spent on the train to the next destination.
Day 22:
Camino de Santiago (Way of St. James) Half-Day Hike
Hike the medieval pilgrimage trails of Ulia Mountain and visit a Basque fishing village on this excursion.
San Sebastian City Walking Tour
End the day learning about San Sebastian's history and architecture with the help of a private guide.
Day 23:
Hernio Mountain Day Hike
Discover more of the Basque area while climbing to the summit for mind-blowing views of the surrounding valleys and villages. On a clear day, you'll even be able to see the Pyrenees!
Day 24:
Travel to Barcelona
Return by train to your starting point in Spain.
Day 25:
Fly Home
Head back to home base with bragging rights. Walking and hiking throughout Spain for 3½three and a half weeks isn't easy, so give yourself a pat on the back, and make sure your friends know about it. You'll have plenty of pictures to prove it to them!