For a great adventure in South Korea, follow this itinerary, which includes the best hiking and sightseeing in the country. The trip takes place over three weeks, because flying to Asia from North America is too tough for just a short trip. This means there's even time for a couple of three-day treks, on top of all the day hikes!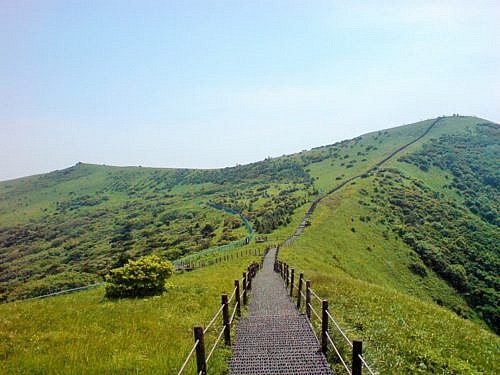 This sample itinerary is for the independent traveller who doesn't mind having to organize some parts of the trip in advance, but who can also be flexible when the time is right. Since it includes two treks and several day hikes, it's also geared toward active travellers.
And remember, since this is just a sample itinerary, it can be completely customized to suit your individual tastes and preferences. Get in touch to start planning your perfect trip!
Day 1:
Fly to Seoul
Arrive in South Korea in the early evening. After checking into your room, enjoy dinner at the hotel restaurant or wander the nearby streets to find the perfect spot.
Overnight in Seoul
Stay right in the middle of the action! Your hotel allows easier access to sightseeing, activities, restaurants, and nightlife.
Day 2:
Seoul City Sightseeing
Explore the city independently or on a guided tour. The must-do stops for the day include seeing the changing of the guards at Gwanghwamun Gate, riding the cable car up Namsan (Nam Mountain) for excellent views from N Seoul Tower's observation deck, and visiting Gyeongbokgung Palace and its gardens, as well as Jogyesa (Jogye Temple). Plus, you won't want to miss Namdaemun, Korea's largest traditional market, along with the nearby Namsangol Hanok Village. If you get the chance, take the Bugak Skyway scenic drive to Palgakjeong Pavilion for panoramic views of the city and surrounding mountains. End the day in Insadong, where you can shop at an antique market and refuel at a traditional tea house.
Overnight in Seoul
Return for another restful night at the same hotel.
Day 3:
Bukhansan Day Hike
Discover one of the country's most stunning national parks on a day hike up Bukhan Mountain. Pack along a kimbap picnic for lunch. You'll find these rice and seaweed rolls similar to sushi, but the filling is generally cooked, preserved, or pickled instead of raw, and the rice is seasoned with sesame oil instead of vinegar.
Overnight in Seoul
You'll be grateful for the comfort of a familiar bed after this day hike!
Day 4:
Korean Demilitarized Zone Half-Day Tour
Embark on a guided tour of the DMZ, where you can learn about the history of the Korean War at the Exhibition Hall, walk in an infiltration tunnel used by the North Korean army to infiltrate South Korea, and visit the Dora Observatory for a glimpse of North Korea, visible through telescopes.
Han River Scenic Cruise
Back in Seoul, spend an hour cruising on the Han River, observing the city skyline while passing under some of Seoul's 27 bridges.
Beginner Korean Cooking Class
Learn how to make a traditional Korean meal, then enjoy eating your creations for dinner!
Overnight in Seoul
Spend one last night at this hotel.
Day 5:
Travel to Seoraksan National Park
Take the train to a village near Seorak Mountain, then take a bus transfer to one of the park access points.
Seoraksan Sightseeing
Spend the rest of the day exploring the temple and its grounds, which feature an enormous statue of the Buddha. If you have time, you can take a short hike to visit some waterfalls which are located on a different trail than the one you will be trekking on.
Overnight at Seoraksan
Spend this night in a minbak (pension) near the temple — and the trail head.
Day 6:
Trekking at Seoraksan
Hike all day on this lovely mountain, where snow sport competitions were held during the 2018 Winter Olympics.
Overnight at Seoraksan
This night will be spent at a mountain shelter — no need to lug around a tent!
Day 7:
Trekking at Seoraksan
Enjoy another day traversing the mountain range.
Overnight at Seoraksan
Make your bed at a mountain shelter this night, too.
Day 8:
Trekking at Seoraksan
After a third day of hiking, you will finally have reached your destination on the other side of the park!
Overnight at Seoraksan
Return by bus to the minbak where you stored your luggage, and treat yourself to a hot shower and a warm meal before calling it a night.
Day 9:
Travel to Danyang
The bus will get you where you need to go next.
Choose Your Own Adventure Activity
In the afternoon, choose from three different adventure activities. There may be time for more than one!
River cruise with bungee jump
Spelunking
Paragliding
Overnight in Danyang
Stay at a hotel in town for tonight.
Day 10:
Hiking at Weoraksan
This area offers two possibilities for day hikes. You can either directly hike up Sobaeksan, or take a river cruise to hike up nearby Weoraksan. Both mountains offer the potential for full-day hikes, or to cover the most ground possible, seeing both mountains on half-day hikes is also an option.
Overnight in Danyang
Return for a second night at this hotel.
Day 11:
Travel to Jirisan
Travel by bus to the next destination.
Jirisan Sightseeing
Have lunch and spend some time exploring the temple complex.
Trekking Jirisan
An afternoon of hiking will get you up to your first rest area.
Overnight at Jirisan
Once again, you will be staying at a mountain shelter.
Day 12:
Trekking Jirisan
Most of this day will be spent walking along the mountain ridge.
Overnight at Jirisan
One more night in a mountain shelter.
Day 13:
Trekking Jirisan
On this day, you will rise extra early in order to catch the sunrise from South Korea's highest continental peak. The rest of the day will be spent heading down the mountain.
Overnight at Jirisan
After a hearty temple meal for dinner, make your way to a minbak to spend the night. Your luggage should already be waiting for you (separate transportation arrangements required).
Day 14:
Travel to Gyeongju
Hop on the bus to get to the next city.
Visit the Gyeongju Historic Areas
The city has a plethora of UNESCO World Heritage Sites to explore.
Noraebang
Time for some Korean karaoke in a private singing room!
Overnight in Gyeongju
Stay at a hotel for the night.
Day 15:
Free Day in Gyeongju
Continue exploring the UNESCO World Heritage Sites, or do your own thing.
Overnight in Gyeongju
Go back to the same hotel for a second night.
Day 16:
Travel to Busan
Ride the train to the country's second-largest city.
Haeddong Yonggusa
You will definitely admire this beautiful and unique seaside temple complex.
Browsing the Markets
Start at the Jagalchi fish market, then move on to the Nampodong general market to soak up two totally different but equally interesting atmospheres.
Martial Arts
In the evening, you can get a taste of taekwondo by watching a martial arts-inspired play at the theatre. The slapstick comedy renders language barriers irrelevant.
Overnight in Busan
Spend the night in a comfortable hotel.
Day 17:
Temple & Fortress Day Hike
On this day, hike to Beomosa for a visit, and make a day of it from there by hiking south along the Geumjeong Fortress wall.
Overnight in Busan
The same hotel is home for a second night.
Day 18:
Beach Day
Both Haeundae Beach and Gwangan Beach are worth a visit, and they are close enough to each other that both can be experienced in one day. A highlight is seeing Gwangan Bridge lit up at night from Gwangan beach, or while bathing at a public bath in Haeundae which overlooks the sea!
Overnight in Busan
Return for one last night in the same hotel.
Day 19:
Travel to Jeju Island
Fly from Busan to Jeju City early in the morning.
Jeju Sightseeing
Visit Seongsan Ilchulbong, a volcanic crater which requires a moderate hike to see, as well as Jeongbang Pokpo, a scenic waterfall that falls into the ocean.
Overnight on Jeju Island
Spend the night at a minbak in a nearby town.
Day 20:
Hallasan Day Hike
Climb South Korea's highest peak and see a volcanic crater in this national park.
Overnight on Jeju Island
Return to the minbak for a second night.
Day 21:
Travel to Jeju City & Seoul
Travel by bus to Jeju City, and fly directly to Seoul.
Fly Home
Return to your family and friends with wonderful memories, fabulous stories, and unbelievable selfies of hiking and adventure in South Korea.